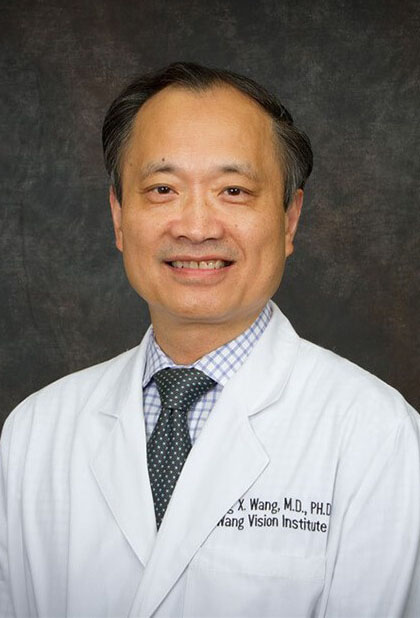 Dr. Ming Wang, Harvard & MIT (MD, magna cum laude); Ph.D. (laser physics), is a world-class cataract and LASIK eye surgeon, philanthropist, and community activist. He is the founding director of the internationally known Wang Vision Institute, Nashville, TN, USA.
As a co-founder of the 501c(3) non-profit organization, the Common Ground Network, Dr. Wang has dedicated his life to helping people find common ground and solutions to problems so they can be more successful and fulfilled in their lives.
Dr. Wang has received numerous awards including the Honor Award of the American Academy of Ophthalmology, the Lifetime Achievement Award of the Association of Chinese American Physicians, an honorary doctorate degree from Trevecca Nazarene University, NPR's Philanthropist of the Year Award, and Kiwanis Nashvillian of the Year Award for his lifetime dedication to helping blind orphan children from around the world.
The Wang Foundation for Sight Restoration, a 501c(3) non-profit charity founded by Dr. Wang, has helped patients from over 40 states in the U.S. and 55 countries worldwide, with all sight restoration surgeries performed free-of-charge.
Dr. Wang is the founding president of the Tennessee Chinese Chamber of Commerce, co-founder of the Tennessee Immigrant and Minority Business Group, and the founding president of the Founders Club of the 917 Society that helps educate 8th graders in America about the U.S. Constitution.
Growing up in the 1960s, Ming had to play the Chinese erhu violin and dance in order to avoid being sent away to labor camps for a life of hard labor and poverty, a devastating fate that fell upon 20 million youths in China. He eventually made his way to America with only $50, where against all odds he earned a doctorate degree in laser physics and graduated with an MD (magna cum laude) and the highest honors from Harvard Medical School and MIT.
Dr. Wang's autobiography, From Darkness to Sight, is an inspirational story of how one man turned fear, poverty, persecution, and prejudice into healing and love for others. It demonstrates how focus, determination, humility, and profound faith can inspire a life that, in turn, impacts the lives of countless others.
The book has inspired a movie called "Sight". Dr. Wang's story has also inspired a movie role in the film "God's Not Dead".