By Áine Oldham, Staff Writer Mar 2, 2023 Updated Mar 2, 2023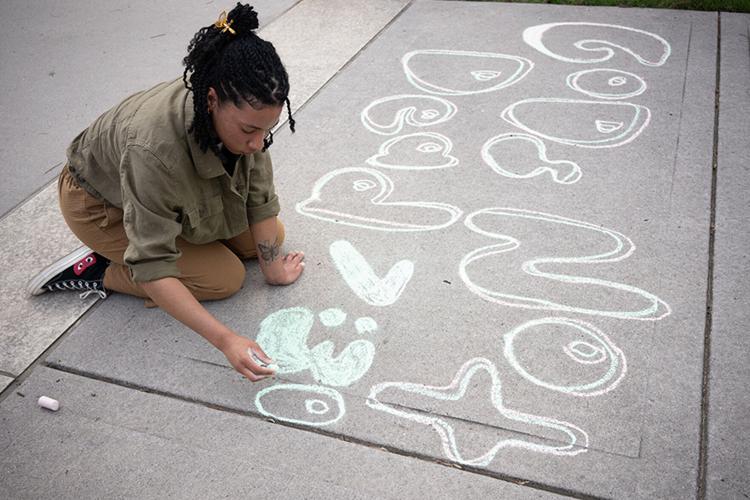 Shannon Vaz makes chalk art to help promote God's Not Dead multi-media event. Wednesday, March 1st, 2023. (Caleb McCool, Staff Photographer)
On Wednesday, author and motivational speaker Dr. Rice Broocks, who wrote the popular book series "God's Not Dead" visited the Roland Hayes Concert Hall with his "God's Not Dead" presentation.
The event seeks to spark dialogue and present scientific and philosophical evidence for the universe, and has been delivered to universities in over 40 nations around the world. This is the first time UTC's campus has been a location for the event.
Event Director Addison Tweedy spoke to the importance of putting on events like this for colleges.
"I think students are interested in answering deep questions, like 'what's my major, who am I going to marry?' And more importantly about God...so now is the time to ask those questions. We want to help them ask the right questions, because sometimes you're not asking the right questions in the right way."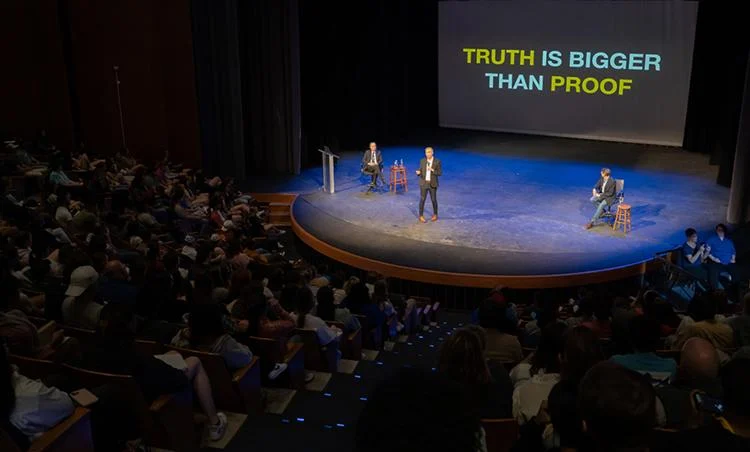 Around 320 people arrived to the Roland Hayes Concert Hall for God's Not Dead. Saturday, March 1, 2023. (Caleb McCool, Staff Photographer)
Some of the questions the event seeks to clarify are, "If you are looking for a God, what would you be looking for? What would he look like?"
Speaking to the divide in science and religion as well as people's ability to respectfully share differences in beliefs and find common ground, Tweedy commented:
"There's just not often this kind of discourse sadly in our country."
"God's Not Dead" seeks to bring about such conversations, with a dialogue of people from different disciplines and an open Q&A section. One featured story played at the beginning of the event was of an atheist who mentioned to Broocks that the kindest thing you could do for an atheist is give them evidence.
Broocks himself traveled to a global atheist convention to understand the reasoning for why they believed there was no God. His journey from atheism to writing a book called "God's Not Dead" speaks to the changes that one can experience through their belief systems.
Overall, the event has a large focus on inspiring people to think differently while meeting attendees where they are.
Tweedy described the main function of this event in this phrase: "let's help you see why there is a God," with an emphasis on why and how he cares for you.
The event also featured speaker Dr. Ming Wang, who told a powerful story of fleeing China during the Cultural revolution as an atheist, and how finding God along the way inspired the book series. Another movie based on his life, called "Sight" is currently in the works.
Whether you are devout, not interested at all, or exploring all of the options out there, navigating religion in college can be a difficult process. It may not look like attending events like "God's not Dead," or you may enjoy going to on campus opportunities to explore and learn about religion.