MOVIE BASED ON THE REMARKABLE LIFE JOURNEY OF WORLD-RENOWNED, ASIAN AMERICAN EYE SURGEON AND PHILANTHROPIST DR. MING WANG WRAPS PRODUCTION IN VANCOUVER, CANADA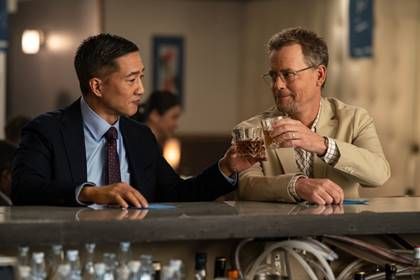 NEWS SOURCE: Rogers & Cowan
LOS ANGELES (October 12, 2021) – Greg Kinnear will star in Open River Entertainment's upcoming biopic "Sight." The movie, produced by Darren Moorman and David Fischer, recently commenced its six-week shoot in Vancouver, Canada. "Sight" features a predominantly Chinese cast shot in English and Mandarin, and also stars Terry Chen as Dr. Ming Wang.
The Oscar-nominated and Emmy-winning Kinnear will play the role of Misha Bartnovsky, Dr. Wang's medical partner, friend and mentor. Kinnear has just signed on to star with Courteney Cox and Mira Sorvino in "Shining Vale," which has been ordered to series at Starz.
Chen made his debut in a supporting role as 'Ben Fong-Torres' in the much lauded "Almost Famous" directed by Cameron Crowe. He also recently co-starred in "Falling" together with Viggo Mortenson who also wrote and directed the film.
"The life of Dr. Ming Wang is a remarkable story of hope," says Fischer, Open River founding partner and producer who developed "Sight." "In a time when the world is hungry for stories of conversion and redemption, 'Sight' explores how we must come to peace with our past before we move forward in the present."
Written and directed by Andrew Hyatt ("Paul, Apostle of Christ," starring Jim Caviezel and James Faulkner), "Sight" is based on the inspiring true story of Asian American Dr. Ming Wang. The film chronicles Dr. Wang's rise from poverty and violence growing up in 1960's China, to his migration to the U.S. He overcame racial discrimination to become a world-class surgeon and medical entrepreneur who would design new technology to help restore sight in millions of people's lives.
"I am humbled and thrilled to be a part of bringing Dr. Wang's incredible true-life story to the screen," says Hyatt. "The universal themes of hope and endurance will undoubtedly resonate with audiences around the world. My grandmother grew up in Shanghai and to be able to honor her in some way by telling a story that echoes her own experience is a very special opportunity."
"I am overwhelmed that a movie is being made about my life," said Dr. Wang. "Living through the many dramatic events that I experienced, I never expected them to be told to the world, especially in such a poignant way. I hope this movie might pave the way to inspire more untold stories to be heard and to inspire others to persevere and follow their dreams."
Moorman of Reserve Entertainment and Fischer will serve as producing partners. Moorman has worked with industry leaders such as MGM, Lionsgate, and Paramount Pictures producing more than a dozen films, including "Same Kind Of Different As Me" which also starred Kinnear as the lead alongside Renée Zellweger and "Blue Miracle" starring Dennis Quaid.
Dan Mark and Rachel Tan will co-produce and Dr. Ming Wang will executive produce.
"Sight" is currently slated for a 2022 Q2 theatrical release.
About Open River Entertainment
Open River Entertainment develops, produces, and invests in stories that inspire hope and explore conversion. See more at www.openriverentertainment.com.
About Dr. Ming Wang
Dr. Ming Wang, MD, PhD, attended Harvard Medical School and MIT in the 1980's. Today he is a world-class eye surgeon, celebrated philanthropist, and community activist. He is the founding director of the internationally known Wang Vision Institute in Nashville, TN, which provides sight restoration surgeries for patients who otherwise would never have the opportunity to receive them free-of-charge. To date, Dr. Wang has performed more than 55,000 eye procedures in over 55 countries worldwide. See more here. He is also the co-founder of the Common Ground Network based in Nashville, TN as well.