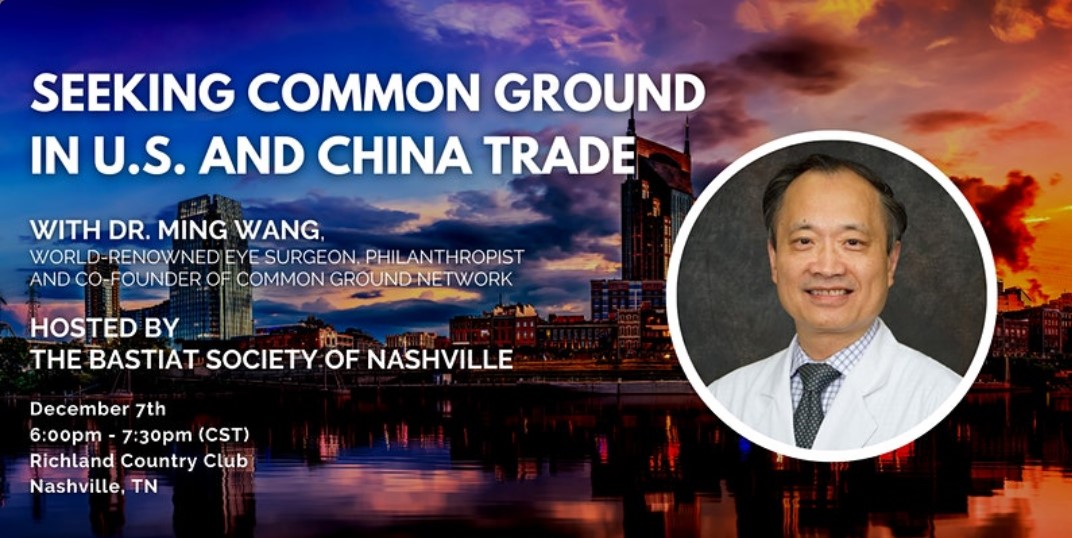 AIER's Bastiat Society program in Nashville will host an event with Dr. Ming Wang, world-renowned laser eye surgeon, philanthropist and co-founder of Common Ground Network.
In this presentation, Dr. Wang will discuss what the two superpowers of the 21st century, U.S. and China, have in common, in history, culture, sport, people, custom, food, economy, religion and other areas. He will analyze the mutually beneficial trade opportunities, including for Tennessee. Dr. Wang firmly believes that while ideological differences do exist between the world's #1 and #2 powers, it is in the seeking common ground that we do share, particularly in trade and economic exchange, that will help improve living standard and quality of lives of people of these two great nations. The film "Sight" is based on Dr. Wang's autobiography as an immigrant "From Darkness to Sight", co-starring Greg Kinnear.
The Bastiat Society of Nashville's speaker series is co-sponsored by The Beacon Center of Tennessee & The Political Economy Research Institute (PERI) (affiliated with Middle Tennessee State University). This co-sponsorship does not necessarily constitute an endorsement of the speakers' positions on the issues discussed.
Eventbrite ticket required.
_______________________
Schedule:
6:00 - 6:30 PM: Networking
6:30 - 7:15 PM: Presentation
7:15 - 7:30 PM: Q&A
_______________________
Ticket Prices:
$0 for Founding Members
$10 for Annual Members
$20 for Non-Members
$0 for Actively enrolled university students who register with a .edu email address. Those who register with a non- .edu email address will be unregistered and asked to purchase tickets at full price.
_______________________
More about the speaker:
Dr. Ming Wang, Harvard & MIT (MD, magna cum laude); PhD (laser physics), is a world-renowned laser eye surgeon, philanthropist, and a co-founder of the Common Ground Network.
As a teenager, Ming fought valiantly to escape China's Cultural Revolution – during which millions of innocent youth were deported to remote areas to face a life sentence of hard labor and poverty. He came to America with only $50 and earned two doctorate degrees, one in laser physics and one in medicine, and graduated with the highest honors from Harvard Medical School and MIT.
Wang Foundation for Sight Restoration has helped patients from over 40 states in the U.S. and 55 countries, with all sight restoration surgeries performed free-of-charge. Dr. Wang was named the Kiwanis Nashvillian of the Year for his lifelong dedication to help blind orphaned children from around the world.
The film "Sight" is based on Dr. Wang's autobiography "From Darkness to Sight" and co-stars Greg Kinnear.